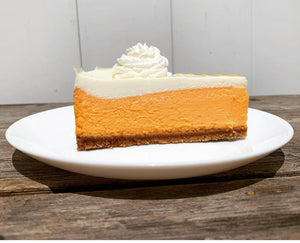 Our orange cream cheesecake is the perfect summer dessert for your next party or picnic! If you love the taste of that popular Creamsicle® brand, you'll love this delicious cheesecake. Our signature sour cream layer tops it along with scratch-made whipped cream. We can't forget to mention, it's baked on a buttery graham cracker crust. Available in a 9-inch cheesecake or a three pack of mini 4-inch cheesecakes.
Creamsicle® is a registered trademark of the Unilever Group of Companies. Third party trademarks are the property of their respective owners.
When will my cheesecake arrive?